Senior Center
Bacoa
www.bacoa.org
Bacoa provides social services to older adults and caregivers throughout the Barrington area. They also offer a full calendar of events and activities to encourage socialization and enhance the quality of life for their clients.
Project Goals
To create relevant information on social services and activities with easy navigation
The Highlights
Intuitive, easy-to-use web design tailored to their older adult audience
The new look
Web development
Bacoa is a long-time web client of 20Twenty Design, except we didn't design their initial website. Instead, we provided ongoing maintenance and support. Despite being regularly updated, Bacoa's leadership decided that the site no longer served their needs. A redesign was necessary to represent the organization and its offerings better. We took this opportunity to streamline, simplify, and build upon their established brand. As a nonprofit that works alongside older adults, it was important for the new website to instill a sense of trust and credibility. We expanded their sitemap with informative content paired with a mix of client photos and lifestyle stock. We also focused on keeping the site's design and usability simple for clients with limited web experience or access.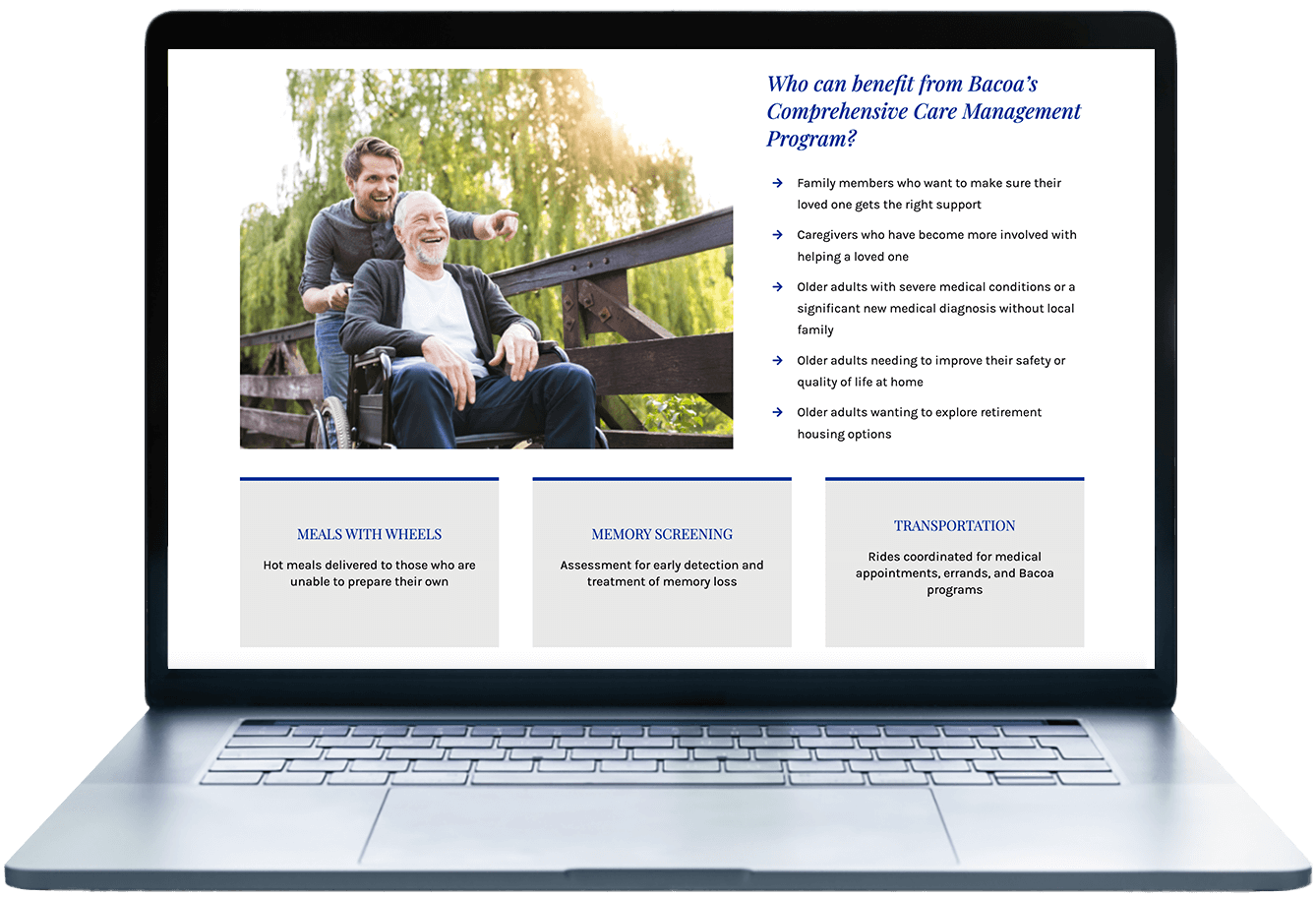 Digital development
Content writing was one of the biggest hurdles we overcame during this project. Bacoa had essential program information spread throughout many different sources, both digital and printed. We consolidated all of this into one place, expanded the descriptions for events and social services, and gave it a cohesive tone of voice. 20Twenty also simplified the event calendar functions, improving the user experience for visitors and Bacoa's staff.
Features
Responsive design
Keyword-rich content
Informative event descriptions
Client testimonials
Data encryption
Reservation calendar