The 20Twenty Team's Top Picks of 2022
Marketing Tools, Media, and Resources
You likely already know this, but we're obsessed with the internet. And this obsession comes along with countless hours of scrolling and searching. In other words, our team continuously finds cool new things online before most people. And we don't want to keep these marketing tools and valuable resources to ourselves any longer. We want to share our recommendations.
Our team is ready to reflect on the things that brought us positivity, ease, and good vibes in 2022. These are the marketing tools that made our workdays a little bit easier, the media that kept us entertained, and the resources that left us feeling inspired.
Underunderstood
Underunderstood is a podcast for our fellow internet enthusiasts who love a good mystery. It's a fun, casual listen, and the topics aren't especially hard-hitting. But this podcast proves that the internet is vast, but it doesn't have all the answers.
"On each episode of Underunderstood, we find a question the internet can't answer — maybe it's a dead-end Wikipedia page, an abandoned Reddit thread, or an unanswered question on Twitter — and we fill in the gaps." Some questions are submitted by listeners, but other mysteries are stumbled upon by the hosts.
The podcast is led by four cohosts with extensive multimedia production and journalism backgrounds. They use their sleuthing skills to dive into the vague and obscure, dig around for resources, and find people with first-hand knowledge.
They describe it as "part chat show, part documentary, and almost always surprising." Every episode is filled with interviews, storytelling, and cohost commentary. But unlike other podcasts, the hosts' lives are not front and center. They don't fill the time with personal anecdotes, even on the episodes that reach the 45-minute mark.
Underunderstood is more about journalism and finding the answers to their questions. Sometimes the answers are hidden in plain sight. Other stories take listeners down long, dark rabbit holes that lead to more unanswered questions. Each episode is packed with unexpected turns, confirming that some mysteries cannot be solved with a quick Google search.
1Password
Internet security is high on our priority list right now. We often hear about hackers breaching websites and gaining access to private data, including user information like emails, names, credit card numbers, and passwords.
Many times, this information is sold to other shady internet users. Most people reuse passwords, which gives cybercriminals quick access to other accounts. And the more advanced hackers become, the more critical it is to use safe password practices.
You should use a strong, unique password for every website and app. But remembering strings of random letters, numbers, and symbols isn't realistic. That's where 1Password comes in. It's a password manager available for desktop, mobile apps, and as a browser extension.
"Millions of customers and more than 100,000 businesses trust 1Password to keep their most important information safe," and it came highly recommended by our IT friends over at GSD Technologies."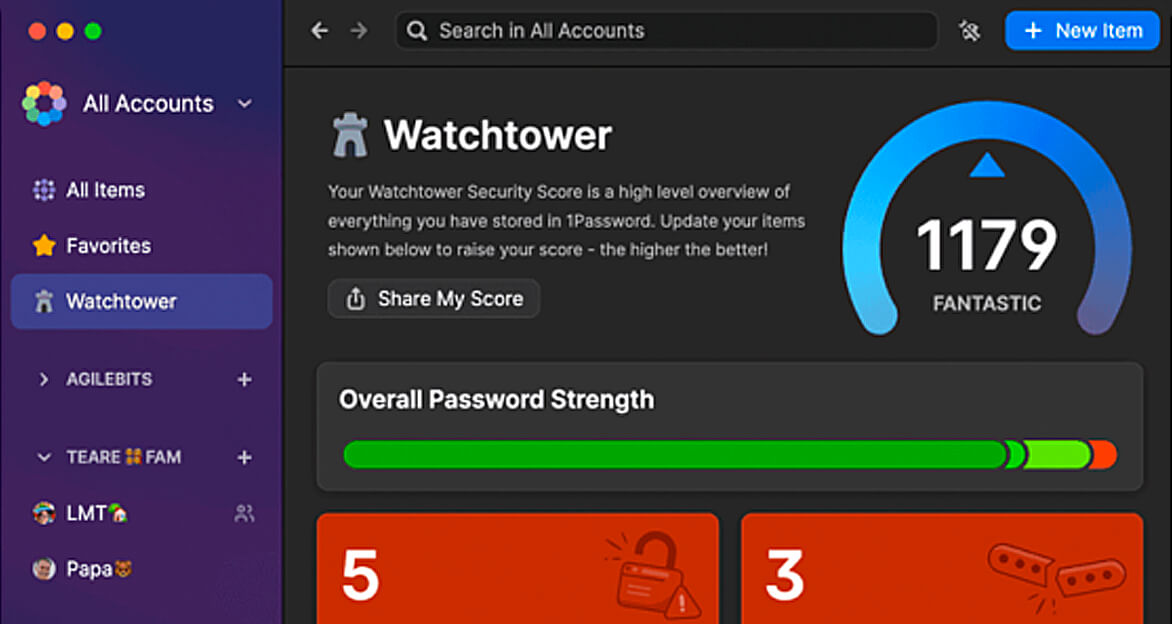 Instead of remembering a slew of passwords, you just need to remember one—hence the name 1Password. Once you log into your account, you can access all your other usernames and passwords. You can also randomly generate new passwords, use the built-in authenticator for two-factor logins, and store credit card information in a digital wallet.
"Their Watchtower feature "keeps track of password breaches and other security problems so you can keep your accounts safe. It checks for weak, compromised, or duplicated passwords and lets you know which sites are missing two-factor authentication or using unsecured HTTP."
1Password is a paid subscription at $2.99 per month for personal accounts and business subscriptions for as low as $7.99 per user. But it's incredibly affordable considering all its features. There's also a free 14-day trial to try out its functionalities without fully committing.
Skillshare
Continued education is part of the workplace culture at 20Twenty. We're always excited to learn new things, so we have a subscription to Skillshare. It's essentially an online learning community for entrepreneurs and creatives.
Lessons are taught via video, and there are "thousands of classes for creative and curious people, on topics including illustration, design, photography, video, freelancing, and more. On Skillshare, members come together to find inspiration and take the next step in their creative journey."
We use it to find new design tips, learn more about web development, and improve our workflows. But there's still plenty to watch if you're not interested in creative learning. They also have courses on leadership, time management, and goal setting.
A subscription gains you access to thousands upon thousands of videos with lessons taught by industry professionals around the world. You may even recognize some of the teachers. Skillshare's teachers include renowned artists, CEOs of major companies, YouTube creators, podcast hosts, famous authors, and TV personalities.
Vice-one star reviews
"One Star Reviews" is an ongoing YouTube segment from Vice, an alternative media company known for its news editorials. This video series is equal parts documentary and awkward comedy, inspired by public access TV broadcasts from the 90s.
Host Taji Ameen visits East Coast businesses with one-star Yelp ratings and gets to the bottom of the bad press. He puts his health, safety, and appearance at risk to determine whether these reviews are legitimate or if something else is at play.
Taji asks the owners about the bad reviews and lets them set the record straight. He often discovers stories of competitor sabotage, customer exaggeration, miscommunication, and even language barriers. But that's not to say the reviews are entirely inaccurate. Some owners are oblivious to the reviews, some refuse to talk about them, and others defend their reputations despite their missteps.
Each episode concludes with Taji writing a Yelp review. He usually has similar experiences to those described in the customer complaints, but he has more context than the average reviewer. He describes his experience, gives the business fair criticism, and never fails to leave a couple compliments.
The video series is all good fun but has a greater purpose. Viewers are reminded that a company's reputation is constantly evolving. It also puts online reviews into perspective by showing their influence on consumer behavior. The impact of reviews is immense, and one lousy review often speaks louder than good reviews. And while customers may not think twice about leaving a review, online feedback is among the strongest marketing tools available.
Who to follow on Instagram
Foundr
Teaching the next generation of entrepreneurs
Logoshift
Digital art inspiration from the design community
Phillip Williams
Posters Museum
Preserving an underappreciated form of design
Clockify
Each day, we handle a long list of services for a growing number of clients. With so many moving parts, we need to know exactly how we spend our time and how projects progress. And that's why a project management tool is a must-have for us.
After lots of research and trials, we found that most project management tools were overly complicated with charts, graphs, calendars, and customizable timelines. Still, they all seemed to lack a simple yet necessary feature—time tracking.
Thankfully, we discovered Clockify. This is by far one of the best marketing tools out there. They describe themselves as "the most popular free time tracker and timesheet app for teams of all sizes. Unlike all the other time trackers, Clockify lets you have an unlimited number of users for free."
In Clockify, you can input time for project work, assign tasks to different clients, and set dollar amounts to project time. There's a clock that counts in real-time, multiple views, and automatically generated reports. The easy-to-use interface even lets you view time tracked for the week, month, and year.
Clockify's time-tracking software is free and available via browser, desktop, and mobile. They also have a paid option for employee scheduling, vacation, and time-off requests, invoicing, and company expenses if you need something more comprehensive. There are even paid integrations for apps like QuickBooks, Trello, and Asana.